OPPORTUNITY TO GENERATE INCOME FROM YOUR NETWORK
Are you a dKocek Geng Participant? Invite your friends to join the  d-Kocek Geng we'll give you RM5 for each friend*
OPPORTUNITY TO GENERATE INCOME FROM YOUR NETWORK
Are you a d-Kocek Geng Participant? Invite your friends to join the d-Kocek Geng and we'll give you RM5 for each friend*
Earn money by telling your friends about d-Kocek.
Start by Logging in to the d-Kocek Geng Portal page and get your Referral Code. Spread information about the d-Kocek Geng along with the Registration link and your unique code through social media such as Facebook, Instagram, email and other mediums.
You will receive rewards for each new participant who subscribe through your code.
Commission Reward
Receive a reward for each new participant
Easy and Fast
Everyone can join our community
Participant Portal
Monitor and check your commissions online via the Participant Portal
INVITE YOUR FRIENDS IN 3 SIMPLE STEPS
The referrer share their refferal code with their friends or family (reffered)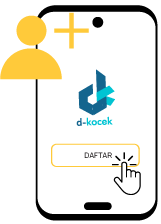 Your friends join the d-Kocek Geng with your code.
You and your friends will receive rewards.
Please refer to the Tutorial for step-by-step instructions.
Invite your friends to join the d-Kocek Geng and we will give you RM5 for each friend*
MORE INTERESTING, YOUR FRIENDS WILL ALSO RECEIVE A REWARD